COVID-19: Please note that the website is considerably out of date at present. Please call for stock updates.
Ken Foster's Cycles Provides Bikes For Thales UK.
Friday 27 May 2016 Filed in: General
Ken Foster's has supplied cycles for Thales UK in partnership with Transport for Greater Manchester (TfGM).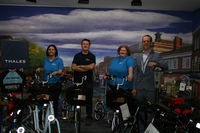 Thales UK's site in Cheadle Heath has been successful in securing a Sustainable Travel Grant from Transport for Greater Manchester (TfGM), worth over £7000. The grant will be used to purchase eight new bikes for the site, each one supplied with lights, a lock, pannier and helmet. The bikes will be available to use by all of the employees at the site.
The bikes have been bought from a local cycle shop, Ken Foster's Cycle Logic, which has since offered all Thales employees a 10% discount on all purchases. Upon purchase, employees simply need to produce their Thales passes to claim the offer.
The grant comes as part of TfGM's Travel Choice initiative, offering grants to businesses with schemes that encourage employees to make sustainable travel choices. The 'Cheadle Cycle Hub' has made employees aware of the benefits of cycling to work, while allowing them to track their rides and compete against one another through 'Strava', the online cycling community.
Thales UK's Andy Jenkins, Systems Engineering Manager, has been imperative in the process to receive the grant. Andy said, "It's fantastic to be rewarded for our efforts in encouraging Cheadle Heath employees to travel to work sustainably through cycling. Once people were made aware of the vast range of benefits – what it does for your fitness, the reduction to your carbon footprint, saving money that you would otherwise spend on running a vehicle, etc – for many it seemed like an easy decision."
The receiving of the grant underpins the strong relationship between Thales UK's Ground Transportation Systems (GTS) business and TfGM, having worked closely together on the Manchester Metrolink Project since 2008.
"Thales UK has a strong, collaborative relationship with TfGM", commented Andy. "GTS has worked closely and effectively with TfGM to design, construct and maintain the expansion of the Manchester Metrolink for several years. The receiving of the grant not only reflects the success of the schemes in place to encourage Cheadle Heath employees to cycle, but the exceptional work we are doing with TfGM to enhance the Metrolink service."