PARK TOOL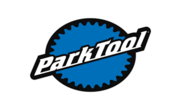 It seems everything was simpler in 1956 and bicycles were no exception. A common day of repairs consisted of a few flat tires, a broken spoke and possibly a coaster brake hub overhaul. As the 1960s arrived, so did caliper brakes, shifting systems, and lightweight components. One problem surfaced along with these complicated new parts. No tools! My father, Howard, and his business partner, Art Engstrom, were both "hands on" guys, usually figuring problems out for themselves. Both were up to the challenge as they crafted their own problem solvers. Most of these early tools were built from scratch with whatever materials and leftovers they could find.

One of the first time-savers they invented was a stand that held the bike off the ground allowing easy, back saving access to any part of the bike. This original stand was put together using legs from a dining room table, an empty shell casing and a truck axle from a 37 Ford. As other shops, and eventually Schwinn Bicycle Company, saw the stand in action, requests were made for a production model. Park Tool Company was born!

The line grew quickly to include a wheel truing stand, more repair stands including a double arm shop version, wrenches gauges, fixtures and consumer tools soon joined the company's offerings. The retail side of the business also grew earning Top Ten Schwinn dealer status fifteen years in a row including number one overall in 1977. In the early 1980s all three retail shops were sold to concentrate on the tool business.

Our history says a lot about who we are and what we do. We still solve problems ourselves and we still insist on a "hands-on" philosophy of invention, testing, and production. The sixty employees of Park Tool take great pride in building the best bicycle tools in the world. Since that first stand, we've built hundreds of thousands more, reaching bike shops worldwide. Since the first hand tool, we've built millions more and our line now includes over 400 different items and a recent history of fifteen to twenty new product introduced each year.

In April of 2013 we celebrated our 50th anniversary and moved into our fourth location, an 80,000 square foot facility built specifically for us. We're doing more manufacturing in-house than ever and our plans include expanding to do even more ourselves. The new facility also includes a photo and video studio so we can expand our web repair help articles and how-to videos. We're poised and ready for the next 50 years!

Howard and Art never imagined in 1963 that Park Tool Company would grow to what it is today, but we will not take our spot at the top for granted. Our pledge for the future is simple: Build the best tools. Our commitment to that principle is stronger than ever. We build bicycle tools and maintenance equipment, it's all we do and we're good at it. Thank you for choosing Park Tool. We're honored to make tools for you.

There are currently no products from PARK TOOL in our site.
Please
Contact Us
for details of this range of products.
Unfortunately we don't have details for the PARK TOOL website, but if you
Contact Us
here at the shop, we'll gladly give you details of any products you're trying to find.